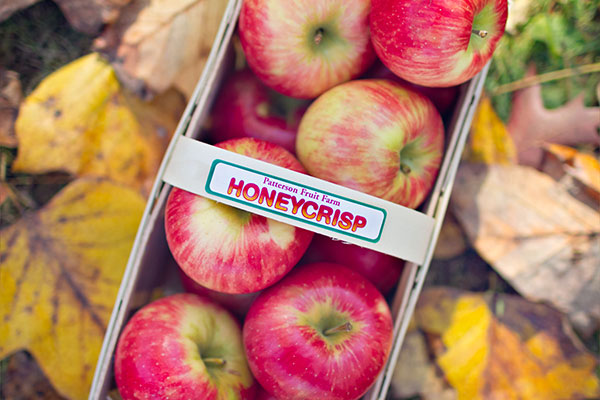 Each week as we head through September and October there are more and more apple varieties available to please your palate. Always there are samples of apples available so you can choose which kind you would like to purchase that week.
Did you know that apples change through the season? The apples that ripen earlier may have that perfect combination of spark and crispness. As the season progresses they may lose their appeal and others ripen to take their place. Mid-season varieties are of the greatest number and late-season varieties are the ones that last best into the winter. When an apple is picked during the season depends on its growing season (some are longer than others) and how much moisture and sun it had during those ripening days of summer. Finally the cold nights and warm days of the autumn give apples their finishing color and flavor. Knowing just when to pick an apple is important to the taste and keeping qualities of that apple.
As apples ripen and are picked, just the mere storage of them at the perfect temperature and moisture level, will help them lose their "starchiness" and gain in flavor. That means that the starch of the pulp converts to sugar causing the apple to become more full-flavored after a week or so of its picking. While some apples are just not going to stay crisp, others have their crispness as one of their best traits. The best thing for customers to do is to take home the amount of apples they can keep refrigerated then come back for more in another two or three weeks. Some customers come back weekly and buy a different variety each time.
Most apples are good for eating out of hand, for cooking and for baking. While it is difficult to know the likes of each customer, we supply this following chart to try to help you out. We will advise you on the best choices for the time of the great fall season and beyond. What makes an apple a great "cooking and baking" apple? Holding its shape while baking through is important. Flavor is very important, of course.
For eating out of hand there is no better way to decide which apple to take than to try a sample – every week. There are so many new varieties these days that you should not let an unfamiliar name keep you from trying it.
APPLE RIPENING DATES & USAGE
*These are approximate dates, each year our picking and harvesting schedule varies based on weather and apple ripening. Please note that not all apple varieties are available for Pick Your Own.