PICK YOUR OWN STRAWBERRIES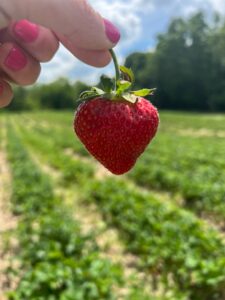 We will be CLOSED for Pick Your Own Strawberries Sunday June 11th. We had a BIG Saturday and we will let the berries ripen. We will be open Monday June 12th at 8am.  We will have strawberries in the Market Sunday June 11th beginning mid morning, call to preorder or confirm availability at 440-729-1964.
 We always recommend checking the strawberry hotline to make sure we are still picking before you head to the farm. Our strawberry hotline is the most up to date way to make sure we are still picking. 
                          CLICK HERE TO GET ON OUR STRAWBERRY UPDATE NEWSLETTER                                           
Pick Your Own is located at our 8765 Mulberry Road Farm. 
Pre picked berries can be found at our 11414 Caves Road Market.                                                                                                     
As always, call our strawberry hotline 440-729-9809, check our website and social media for updates.  
We will see you soon! 
– The Patterson Family
Since 1971 Cleveland area families have enjoyed coming to Patterson's to pick their own strawberries. Strawberries typically begin around June 10 and finish around the 4th of July, but that can vary depending on the weather and the crop.
Several varieties are available which are all great for fresh eating, freezing and preserving into jams. Ask us for tips on preserving as well as recipes for their use.
Seasoned strawberry pickers know it is best to pick first thing in the morning before the sun is too warm. Be sure to call our Strawberry Picking Hotline before coming out for the latest updates: 440-729-9809
PRE-PICKED BERRIES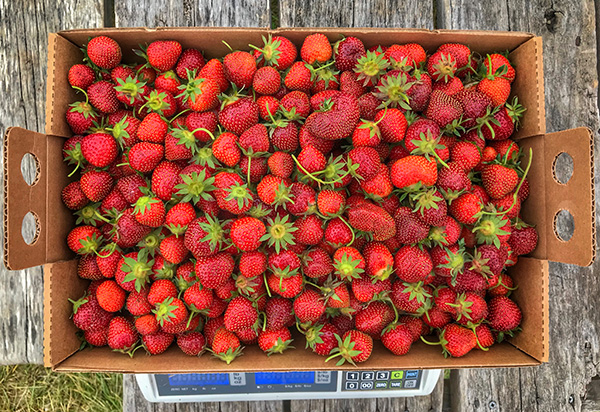 We pick fresh strawberries daily when in season for our market. Call our market at 440-729-1964 for updates and daily strawberry availability. Of course, we will happily take your order so that you can be sure we have berries when you want them.
Other Products Available at Our Caves Road Market in June:
Pies and Donuts
Apple Cider
Rhubarb
Other seasonal berries
Limited vegetables